TECHNICAL DATA OF MAGWA ENTERPRISE TEA PTY LTD: 
Current production size of the Magwa and Majola is 1803 ha and 385 ha respectively

Tea Estates are a significant employer in the Lusikisiki area (with over 1500 workers)
Overall Design Rationale:
The redesign of the Magwa Enterprise Tea was one of a holistic approach. Sustainable design is proposed with a good balance of functionality and use of the structures. We proposed building material and techniques that is to be cost effective, will lower the carbon footprint and also create a suitable ambience to work in.
Renewable energy is key; here we have proposed a hybrid system. We have considered Solar, Hydro, Geothermal, Biomass and Wind Energy. Energy obtained will be used to service all infrastructure with the estate.
All Infrastructure will be in accordance with National Building Regulations and Food Safety Regulations. Road Infrastructure and services will also be attended to .
Aerial view of Revamped/Repurposed existing Magwa Factory
We were led by the Adaptive reuse process of taking an old existing production factory and reusing it for a purpose other than it was designed. We also took into cognisance the use of elements & materials that contributes to a reduction in running costs.
The existing production factory has been repurposed to accommodate a Museum, Gymnasium, Offices (Government and Private), Retail, Restaurants, Petrol Service Station, Storage, Accommodation.
New Magwa Tea Production factory
We have proposed a synergy of conventional building methods with self-sustaining/renewable elements.
The new factory is Food Safety compliant and is run by a wood fired boiler; the production area will also be fitted highly advanced equipment.  
One of our external key features threading through all our designs are the living green walls. The living green walls are a sure-fire way to enhance a building's visuals, improve air quality as well as employee alertness and energy levels.
The above to service all the Communities within and surrounding the Estate. We also proposed an (Early Childhood Centre) ECD and a Clinic.
This estate will boast of features such as incredible infinity-edge swimming pools precisely positioned to face the vast horizon and providing the most beautiful sunsets. Abundant living space for family or friends' social gatherings, extensive living and dining areas, modern kitchens, and the latest state-of-the-art audio and media amenities providing endless hours of relaxation and entertainment.
The estate also has its own tennis court, landscaped garden that can be used for weddings and events, and has a backup generator.
Majola Tea Production Factory
We have maintained the footprint of the existing factory for production, we also added an administration block that includes offices, boardroom ,tea testing room , ablutions and storea . The Boiler is also changed to a wood driven boiler. A canteen situated at the rear of the site, can also be used for functions – this is hugged by a soccer field and outside recreation area.
PROSPECTIVE COMMUNITY FACILITIES
A Stadium with a capacity of 1000
A Community hall with 500 seats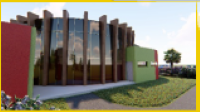 The above to service all the Communities within and surrounding the Estate. We are have also propoased an ECD (Early Childhood Centre) and a Clinic.